Brecci is one of the most skilled Fortnite players. Born in August 2004 in the United States, he runs a YouTube channel where he posts videos of his gaming exploits, usually involving Fortnite. However, when he started his YouTube channel back in 2015, he was posting videos about GTA.
This post is an in-depth review of the specific keyboard that Brecci uses for gaming.
What Keyboard Does Brecci Use?
Brecci uses the CyberPowerPC Skorpion K2 gaming keyboard.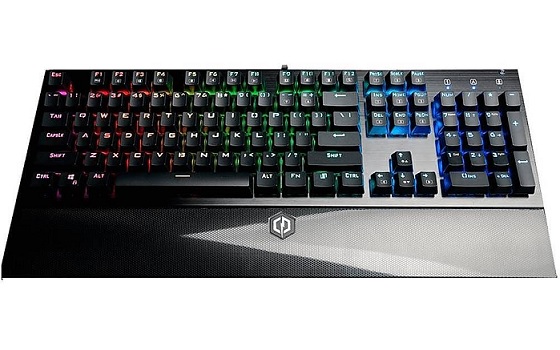 Brecci's Keyboard: CyberPowerPC Skorpion K2 Review
The sleek and stylish CyberPowerPC Skorpion K2 CPSK305 keyboard is built with gamers in mind. Sporting a sturdy brushed aluminum chassis, the keyboard looks quite professional and aesthetically alluring — thanks to the amazing LED lights. If you're a stickler for gaming keyboards that sport good looks, then you'd fall for this model.
While the CyberPowerPC Skorpion K2 Series is available in tactile, clicky, and linear versions, our recommendation here is the tactile version (CPSK305 model), which serves both productivity and gaming purposes perfectly.
The keyboard provides maximum accuracy during gameplay, and you won't miss any important keystroke even under intense gaming conditions — thanks to 16 million color RGB, 104 individual key backlighting, and 100% anti-ghosting features.
The keys have a good feel to them. While they're not texturized, your fingers won't slip off them. They also have a clicking and super-crisp response with impressive tactile feedback/response that make it tempting to press, just so you can hear the click and feel the pushback. And this effect won't wane over time, as the keys are built to withstand several years of repeated heavy presses.
Measuring 8 x 17.9 x 1.5 inches, the CyberPowerPC Skorpion K2 comes with a wrist rest that feels quite adequate and provides the much needed ergonomic advantage, especially to gamers. But if you're not a fan of wrist rests, you should be able to detach it from the keyboard.
As with every other gaming keyboard on the market, the CyberPowerPC Skorpion K2 keyboard has its downsides. Aside from the absence of an instruction manual in its package (which most users can do without), the keyboard doesn't really stand up high enough on its back end feet. Rather, it's almost laying all the way down still even after the back feet are made to stand. But this won't be an issue at all if you're not used to raising up your keyboard on its feet while using it.
Another downside is the high-pitched sounds that come with each keypress. This can be quite discomforting for some users. If you fall within that category, you might want to consider buying key dampeners to get a more silent gaming or typing experience.
Arguably the biggest downside of the CyberPowerPC Skorpion K2 keyboard is its lack of support for Mac OS. The keyboard is compatible with only Windows-powered PCs. So, if you're a Mac user, you'd have to pass on this one.
Pros
Attractive
Durable
Addictive tactile pushback response
Ergonomically designed
Cons
No instruction manual
Standing height unimpressive
High-pitched sounds
Supports Windows only
Wrap-up
If you're a fan of Brecci, then using the same gaming keyboard that he uses isn't a bad idea. However, before opting for the CyberPowerPC Skorpion K2 CPSK305 keyboard, be sure that you're fine with its high-pitched sounds and that you're not a Mac user.