When Fortnite textures are not loading, it will fill the game with glitches and make it uninteresting to play. This textures loading error occurs when you're playing the game. If you're using a low-end computer or a console, you might not experience this because Fortnite features have fewer RAM-consuming objects.
Since you're here, we believe you aren't playing it on a console or low-end computer. Why this is happening on your PC is because the graphics facility of your computer is set to a high level, and this might create some errors because it is higher than Fortnite textures. Once you notice that the display objects are not as apparent as you've seen in the past, or the objects do not appear very realistic, this is an issue of the textures not loading.
A much easier way to know if the textures are not loading is by looking at building and object, if they don't have a crisp clarity or objects appear out of thin air, those are clear signs that you have encountered the issue of the texture not loading.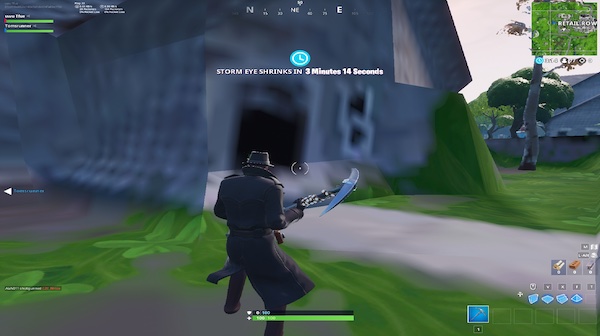 Fortnite Textures Not Loading: How to Fix The Problem
This issue is a common one among Fortnite players, and the best part is that it isn't hard to resolve. We will show the different solutions you can use to solve this issue so you can start enjoying your game to the fullest.
These are the different methods you can use —
Update Graphics Card Driver
Lock FPS
Lower Graphics Settings
Reinstall Fortnite
Solution 1: Update Graphics Card Driver
One issue that can affect Fornite texture not loading error can be an outdated or corrupt graphics card driver. The only way you can confirm this is to check if your graphics card driver is up–to-date. If it is outdated, you'll need to update it.
Open the Run window by pressing Windows + R. An empty field box will appear; type in devmgmt.msc and hit Enter.
On the Device Manager window, expand Display adapters by double-clicking on it. Right-click on the graphics card driver, then click on Update driver.
A new window will appear, click on Search automatically for updated driver software. There will be on-screen instructions that will guide you to finish the process.
Solution 2: Lock FPS
A very effective way to resolve this issue on Fortnite is to lock FPS. This is the recommended way to solve textures not loading issue on PC, and it is very simple.
Locking the frame rate can be done by simply creating a custom file. We offer you a detailed step below on how to lock FPS.
Go to the search box, input % local app data % then click on it from the search results.
Go to the Fortnite game folder and then click on saved file. Find the config folder and then open it.
Launch Windows client, find Game-users-setting, and right-click on it. Click on properties from the pop-up menu that appears.
There is a read-only box, uncheck it and then click on apply.
Open the Game-users settings by double-clicking on it. In the opened document, search for "frame rate limit". When you find the FPS for Fornite, set the value to a lower value and then save the documents.
Exit the Game-users settings, then right-click on it again. Click on properties from the pop-up menu that appears, check the read-only box then click on apply.
Solution 3: Lower Graphics Settings
Fortnite textures not loading issue can also be caused by setting your graphics setting to a high level. What you need to do is to lower the settings.
Open your Epics games launcher and go to Fortnite settings.
Click on Video Settings, then modify the settings correspondingly.
Check your computer resolution, then set Fortnite resolution to the same resolution that is displayed on your computer resolution.
Pick between low or medium quality.
Pick between near or medium for the View Distance.
Turn off Shadows and anti-aliasing.
Configure Effects and Textures to Low, and turn on Show FPS.
Solution 4: Reinstall Fortnite
After trying all the different methods talked about above and the issue still persists, the only step left is to reinstall Fortnite. But first, you have to uninstall it.
Press Windows + R to open the Run window.
Type control and hit Enter.
In the Control Panel Window, you'll see Programs and Features, click on it.
Find Fortnite then right-click on it. A pop-up menu will appear then click on Uninstall. Now confirm the progress.
Fortnite will start uninstalling and when it has finished uninstalling, download and install Fortnite from its official website.
Conclusion
When textures are not loading on Fornite, it can hamper your gameplay because objects appearing out of thin air might disrupt the plans you have for the game. Players that aren't familiar with this issue will think it's just a momentary issue until it continues for a long time. It's best to take the steps now to resolve this issue so that you can enjoy your game and rise through the ranks.